Mystery Box -- Diamond Edition

---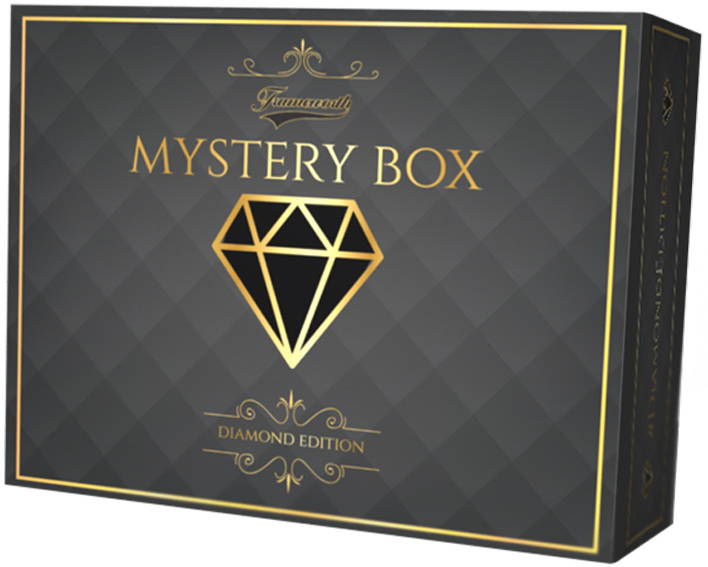 Collectors make note! The Frameworth 'Diamond Edition' Mystery Box will be debuting at the Sport Card & Memorabilia Expo November 15-17th. Frameworth Insiders will be granted early access to the new edition online on Thursday November 7th at an unknown time. Only 25 will be made available online. The edition is limited to 75 unique boxes with HUGE value. This new mystery box will run collector's $1,000 per box but the investment is real. Each box has an average retail value of $3,000. The boxes feature game-used products, autographed jerseys, multi-signed autographed photos and frames, and much more.
This is not a product that everyone can indulge in at $1000 per box but it's a collectors dream. This high-end mystery box will be in very limited supply.
This is the first time Frameworth has released a mystery box with higher value than their sought after "Platinum" mystery box which sells for $500. The new diamond box was designed with the sole purpose of delivering extremely high value and a rare customer experience.
** Available Now for Pre-Order. Boxes set to ship in 1-2 weeks. **
Headliners: Sidney Crosby, Wayne Gretzky, Bobby Orr, John Tavares, Patrick Kane, Carey Price, Jonathan Toews, Nathan MacKinnon, and Mario Lemieux
Wendel Clark, Paul Coffey, Sidney Crosby, Sergei Fedorov, Matt Duchene, Doug Gilmour, Wayne Gretzky, Taylor Hall, Patrick Kane, Guy Lafleur, Nathan MacKinnon, Mitch Marner, Mart McSorley, Larry Murphy, Darnell Nurse. Bobby Orr, Carey Price, Morgan Rielly, Darryl Sittler, John Tavares, Jonathan Toews, and Steve Yzerman
Best of the Best signed frame: Gordie Howe, Wayne Gretzky, Bobby Orr, and Mario Lemieux.
Captains Row(Leafs) Multi-Signed Frame: Kennedy/Armstrong/Keon/Sittler/Vaive/Ramage/Clark/Gilmour/Sundin
Montreal Canadiens Replica Stanley Cup - 11 Signatures
Chicago Blackhawks Multi-signed Ambassador Frame: Toews/Kane/Hull/Esposito/Savard/Mikita
Frequently Asked Questions
Does Every Diamond Box Have an autographed jersey in it?

No - Frameworth is providing some of the most exclusive product from our vault and exclusive lines to make this Limited Edition box. Some of these boxes include one or more of exclusive jerseys, frames, and Stanley Cups.
I love my autographed jersey, can I frame it?
Absolutely. Every mystery box comes with a special framing deal inside for our loyal customers. We specialize in custom framing and offer a variety of options for jerseys, pucks, photos, & much more.
How do I know the contents inside my box are authentic?
We only use licensed products in our #FrameworthMysteryBox promotions as we are an official licensee of the NHL, NHLPA, Team Canada, & HHOF. Frameworth also represents some of the top athletes in the world to exclusive or semi-exclusive autograph deals and are widely trusted in the memorabilia & autograph industry.
We've also sold out over 16 separate editions of mystery boxes!
If I order more than one Frameworth Mystery Box is there a possibility of receiving duplicate items?
It is very unlikely, but yes there is a chance. Our boxes are pre-made ahead of the release date and box numbers will be randomly assigned which means we are unable to guarantee that each box will be completely unique. We try our best to include as much variety as possible.
What sizes are the Jerseys?
We do not guarantee any specific jersey sizes but we typically carry sizes L, XL or 52, 54, 56, & 58 for Pro jerseys. These sizes are considered the most ideal for framing & displaying.
What brands / styles are the Jerseys?
We carry a wide variety of licensed hockey jerseys. This includes Adidas ADIZERO Pro, Adidas Vintage, RBK Premier, RBK Pro, RBK Vintage, Nike Replica & Pro, Fanatics Breakaway, & CCM Vintage.
SHIPPING: All mystery box orders will ship 1-3 weeks from the date of purchase.
PICKUP: A Frameworth representative will contact you directly when your order is ready to be picked up.
Can I use Coupons/Discounts to buy my box?
No coupon codes or other discounts are allowed in conjunction with this promotion.